I Can Create Stories
Claire Miller
Synopsis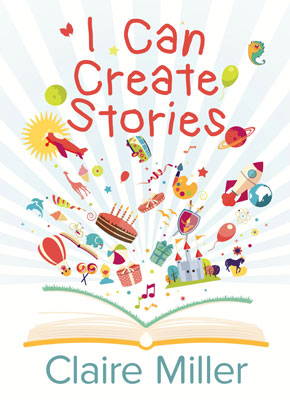 Come and have fun. Read, draw and create stories then listen to them. You can read the stories yourself or have an adult read them, (secretly they'll want to know what happens). After each page of the four stories in this book is a blank page just waiting for you to draw whatever the story has conjured up in your imagination. At the end of the book are blank pages just waiting to be filled with your story ideas. You can listen to the stories, with the audio files which come along with the book, and enjoy them whenever and wherever you are too. What are you waiting for?
Reviews
"My children simply loved these stories, they were always excited to predict what happened next and would have me reading them for hours — highly recommended for little kids and big ones. Something for all ages."
Primary 4 Teacher
"Thank you for letting me read your book. I really enjoyed it. The first day I got it I read 2 full stories. I wanted to stay up all night to read it. I drew a couple of pictures that night and I really enjoyed the chance to draw your own pictures. I would buy this book for £1000000!! My favourite story was "The end of year competition" because I enjoyed the adventures and that Boomer was found-out at the end. I also liked "Farmyard Olimpics" because Daniel Pig thought he was a loser but actually he was a WINNER!"
Review from an 8 Year Old
"Thank you for writing this wonderful book. The stories, set out in this way with opportunities for interactive writing and drawing, kept my child interested and engaged with this reading experience. She thoroughly enjoyed all the characters and the chance to illustrate the stories herself particularly appealed to her. In our struggle to encourage her to read, the creative aspect of this book helped enormously in holding her attention. The stories were all very different but marvellously heart warming, which kept her interest in the whole book."
Review from a Parent
Activity Sheets
Click the buttons below for the activity sheets which come with I Can Create Stories.